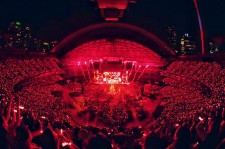 LED wristbands, made famous by Coldplay, are lighting up fans on Coldplay's tour, and at all kinds of live special events.
Toronto, Ontario, August 23, 2017 (Newswire.com) - The Rogers Centre was aglow this week with the excitement of Coldplay's live performances, and also with the light from every person's wristband, courtesy of the innovative LED wristbands known as Xyloband.
Xylobands, made famous by Coldplay, are the 'intelligent LED wristbands' with micro computer/receivers that use RF control to light up the entire audience. A single, ground based transmitter lights up everyone, creating a brilliant and immersive LED light show experience unlike anything before. Coldplay fans are seeing the latest technology at the band's state-of-the-art live concerts.
Xylobands USA create energy with LED wristbands and LED lanyards at corporate and private special events where connection and engagement are important. When Xylobands are at an event, they always get everyone excited and involved.

Kevin Bilida, Owner/CEO/Team Leader: TLC Creative
Xylobands feature 360 degrees of RGB LED lights, on an extended 10-inch fabric strap, they are meant to be seen. Xylobands are the brightest intelligent LED wristbands available. They shine more light than imitation silicone bands that use only a few LEDs, plus; the unlimited programming options of Xylobands create all kinds of unique experiences.
The LED wristbands are available from Xylobands USA, and they are being used to light up public and private events around the world. Xylobands have become very popular at corporate events that use the Xylobands to motivate their teams. Meetings and seminars are more exciting with the LED bracelets illustrating meeting points on the group. Xylobands aren't the only product lighting up crowds, intelligent LED lanyards, with even more LED lights can light up an entire venue.
Coldplay has previously worked with the special effects team behind Xylobands USA; TLC Creative. TLC Creative provided lasers for previous tours, live special effects, glowballs, and; TLC provided aerial photography for A Head Full of Dreams Rose Bowl show.
LED wristbands from TLC Creative >
Event planners take advantage of the unlimited programming options for Xylobands including; multiple, customizable preset cues, live cue buttons, and dynamics: Flash - Pulse - Fade - Twinkle - Strobe, with controls for speeds & rates.
To get the most from Xylobands technology, producers design patterns and combinations of colors and groups of colors to immerse an audience in an LED light show. The RGB LEDs create thousands of colors, and Xyloband shows create colors and patterns blinking to the beat of the music, as well as live cues. The walk-away mode keeps the Xylobands glowing long after the event.
Coldplay's tour 'A Head Full of Dreams' continues across North America; with passionate live performances, and state-of-the-art Xylobands, lasers, glowballs, and live special effects. After Toronto, the tour heads to NRG Stadium in Houston, Texas, then the Hard Rock Stadium in Miami, Florida.
A HEAD FULL OF DREAMS TOUR WIKI >
Contact Xylobands USA at 310-822-6790
310-822-6790
​Media Contact:
Jeff Ward
Phone: 310-822-6790
Email: TLC@TLCisCreative.com
Source: Xylobands USA
Share: