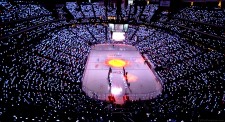 LED Wristbands, made famous by Coldplay, are lighting up sports events with brilliant light effects and immersive experiences. Xylobands, the brightest LED wristbands available, fill arenas with team colors and light effects in a visual display in sync with the music.
Phoenix, Arizona, October 22, 2016 (Newswire.com) - Live entertainment has a new look with light shows coming from audiences wearing LED wristbands, as seen at this week's season opener for the Arizona Coyotes. Sporting events in NHL, NBA, and many corporate and private events are lighting up their guests with this new wearable LED technology.
Xylobands, pioneers of the special effect, are so bright with multiple LED's that entire stadiums are filled with bright and very colorful light shows. Xylobands create a new kind of LED light show that the audience is wearing.
Over 11.5 million Xylobands have been experienced around the world, most noticeably in this year's Coldplay Tour: A Head Full of Dreams. TLC Creative Special Effects, creators of the Coyotes LED spectacular, says that seeing over 250,000 LED's lighting up the entire hockey venue is a brand new experience. Wearable LED is becoming a major part of all indoor and outdoor entertainment.
Xylobands are meant to be seen, and they are! Xylobands feature more than 10 bright LED's in each band, arranged all around the strap, creating 360 degrees of light. They are creating brilliant LED light shows that are unlike anything ever seen. Imitation Xylobands use just a few LEDs encased in a small silicone band, compared to Xylobands. Xylobands feature and extended band that really light up an event.
Xylobands USA SPORTING EVENTS >>
Denver Avalanche – Xylobands USA lit up the audience for an outdoor pre-game show featuring a performance by The Fray. The LED wristbands created a bright display of energized fans, along with pyrotechnics, and have become a valuable part of live entertainment.
The Xylobands USA team has brought the advanced technology to pre-games for NHL Denver Avalanche, and NY Rangers, NBA Miami Heat, NY Knicks, Detroit Pistons, as well as to numerous corporate and private events. Cisco recently held a conference for 18,000 people and Xylobands USA lit up multiple events for the tech giant using new LED Lanyards.
TLC Creative Special Effects website >>
Xylobands USA and its core team of special effects experts at TLC Creative Special Effects have worked with Coldplay, bringing live special effects, glow balls, and laser effects to their live performances. The AMA awards show on ABC included the band performing with new Xyloband Glowballs, with colors synchronized to the song Adventures of a Lifetime.
Coldplay at AMA Awards 2016 - video
Email at TLC@TLCisCreative.com
Contact Xylobands USA at 800-447-3585
Source: Xylobands USA
Share: