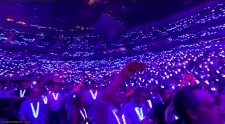 Light-up LED Lanyards from Xylobands USA - Wearable LED featuring DMX control and brilliant LED's that create immersive, shared experiences for audiences of all sizes.
Los Angeles, CA, October 21, 2016 (Newswire.com) - New technology! Brilliant LED lanyards, using Xylobands light-up technology made famous by Coldplay. The LED lanyards are controlled live, and pre-programmed, changing colors and creating dynamic color zoning and LED light effects that are filling venues with amazing experiences for audiences. The lanyards use the same reliable control technology as the LED wristbands from Xylobands.

LED LANYARDS by Xylobands USA >>>
Xylobands are an entertainment phenomenon, experienced by over 11.5 million people. This years Coldplay Tour; A Head Full of Dreams, sold out stadiums around the world, and debuted new technologies and light-show special effects that have never been seen before.
The LED lanyards are the brightest audience light-up device yet created. This brilliance was demonstrated as TLC lit up 18,000 people with the new Xylobands lanyards at a recent Las Vegas conference, filling the MGM Grand arena with light coming FROM the audience! Conferences and meetings will be inspired to use this exciting new experience for events.
See the LED wristbands that are changing the look and the experience of live entertainment. DMX controllable LED wristbands using reliable RF are lighting up events of all sizes, from private parties to corporate events and more.
Contact Xylobands USA at 800-447-3585
email TLC@TLCisCreative.com
Source: Xylobands USA
Share: