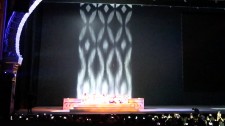 New technology water effects, plus fire, fog, wind, snow and pyrotechnics create an environmental experience for the PlayStation event at this year's E3 in Los Angeles.
Los Angeles, CA, June 15, 2017 (Newswire.com) - Live special effects created excitement at the Sony PlayStation event at E3 this week, including new technology waterscreens. The waterscreens created designs and images in the falling water and were provided by TLC Creative, who also brought the new technology white fountains for a bright climax to the event.
Besides the intelligent water-screens, TLC provided live special effects; from fire and flame bursts, to fog effects, wind effects and a massive snowstorm that filled the huge Shrine Auditorium with an environmental experience that amplified the visual energy of the media presentations.
"TLC layers multiple special effects into productions, and timed with music and lights, the audience is constantly surprised and in anticipation that anything can happen. It's a great way to engage audiences of all kinds."

Kevin Bilida, President / CEO: TLC Creative
TLC Creative was honored to work with the creative team at Stungun Productions, bringing spectacular environmental experiences to life for Sony's media showcase event.
White Fountains effects, from TLC, created a brilliant burst of light at the climax of the event. The white fountains look like bright fountains of pyrotechnics, but are cool to the touch, use no fire or flame, and are not pyro. The technology is safe and is energizing all kinds of events and shows.
Providing live special effects to the entertainment industry, as well as to the corporate events world for almost 40 years, TLC Creative is at the forefront of new technology for special events. New effects like Floating Video, Video Panels, and Dancing Drone Shows are giving event planners new ways to make new experiences at events.
Xylobands (made famous by Coldplay) is a key service for TLC, lighting up audiences with the world's brightest intelligent LED wristbands. Live controlled light effects are immersing event goers into unique experiences they will never forget.
Contact TLC for more information on technical production and for live special effects.
For more information, contact TLC at:
310-822-6790
TLC@TLCisCreative.com
Source: TLC Creative Special Effects
Share: