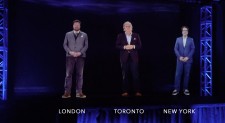 Innovations for streaming events include the 'virtual stage' featuring remotely captured presenters, shown side by side, life-size, and standing. Using multi-point transmission sent securely over the internet with ultra-low latency, virtual stage creates unique live events. Live streaming events that allow for more spontaneity for presenters, and more visually impactful virtual meetings with better engagement, and better recall than talking face meetings.
LOS ANGELES, May 8, 2020 (Newswire.com) - Businesses that want to create better impressions at virtual meetings are turning to TLC Creative to stream more enhanced online events. Putting multiple presenters on the same 'virtual stage' for a more natural visual display​ creates a much more captivating experience.
Remotely captured presenters are shown side by side, life-size, and standing. Presenters can see each other's body language and interact better, with lower latency than consumer streamers, allowing more live spontaneity and energy.
"This energy and ability to read body language is critical to viewers, allowing them to engage in the presentation instead of just watching it," says Jeff Ward, Production Manager at TLC. "In addition, TLC provides interactive tools and all technical assistance necessary."
"This goes beyond the boxes of talking faces that have 'zoom'ed into our computer screens," said Kevin Bilida, TLC founder. "Web events can happen in a virtual environment of any kind. There is no limit."
TLC is known for innovative effects at live events for corporate theater and sports events. That drive to innovate keeps Bilida on the lookout for new and exciting technologies, such as the virtual stage streaming technology.
Bilida designed the world's first 'reveal and release' screen-drop system for a 360 cylinder projection-mapped show he created for the Los Angeles Lakers. A pre-game favorite, the show has been performed for the home audience over 500 times since its debut at Los Angeles Staples Center.
TLC has provided technical production and media events for clients including Expedia, Cisco, Adobe, Autodesk, Sikorsky Aircraft, and more.
Contact TLC Creative Technology
Visit TLC: https://tlciscreative.com
Discover TLC on social media:
TLC INSTAGRAM
TLC FACEBOOK
TLC PINTEREST
Media Contact:
Jeff Ward
Phone: 310.822.6790
Email: TLC@TLCisCreative.com
Source: TLC Creative Technology
Share: