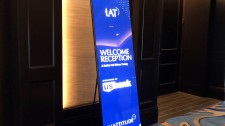 New technology video panels are making big impressions at events and exhibits, bringing dynamic visual content to energize participants. A national convention was made 'media-rich' by adding 30 tall LED video panels that featured updated schedules and high-level branding. The technical event producers at TLC Creative Technology are using video panel and video shapes to create visual impact.
LOS ANGELES, November 7, 2019 (Newswire.com) - ​​​​​Innovative video panels are bringing dynamic and colorful displays to events and meetings of all sizes, showcasing the power of active media almost anywhere. TLC Creative Technology provides the video panels to energize conference and event participants.
The 7 foot tall, high-resolution video panels transform any area into a unique, media-rich experience. Bright, colorful branding, with unlimited visual potential, and updated schedule information, make the video panels a huge win in the events audio visual industry.
TLC's LED video panels provide large branding visibility and messaging that busy conference attendees can easily spot, even in a crowded environment. The video panels are mobile-device driven, and with cloud-based content uploading, quick to set-up.
The light-weight video panels can be quickly set-up anywhere, and individual panels can be instantly combined into large video walls. TLC is using the v-panels for all kinds of audio / visual and staging situations. TLC also provides a variety of LED video shapes that are also surprising guests at events, from wavy, and curved shaped video screens to circles of LED video.
TLC recently provided a national convention with 30 tall LED video panels featuring schedules and high-level branding that was updated everyday. The event hosted 10,000 professionals across a variety of industries with expertise in real estate, technology, education and the arts. The video panels were used to inform the participants, including top-producing real estate professionals, industry experts and corporate executives.
New technology 'holograms' from TLC called floating video, use bright LED to create 3D imagery that appears to float in mid-air, another 'video' medium that gets attention. The 'hologram' floating video is an attention-getting technology TLC brings to exhibits and expos, as well as special events to create immediate impact.
Creating unique visual energy at exhibits and events is crucial to stand out. From video display to live special effects, TLC adds impact targeted to any type of audience. TLC provides technical production support, live special effects, kabuki reveals, and projection mapping and effects.
Live stage effects from TLC Creative include water-screens, pyrotechnics, fog effects, and sparkle fountains. TLC transform venues into unique experiences.
Visit TLC: https://tlciscreative.com
Contact TLC Creative Technology
Phone: 310-822-6790
Email: TLC@TLCisCreative.com
Discover TLC on social media:
TLC INSTAGRAM
TLC FACEBOOK
TLC PINTEREST
TLC TWITTER
Media Contact:
Jeff Ward
Phone: 310.822.6790
Email: TLC@TLCisCreative.com
#eventprofs #corporateevents #conferences #meeting #video #eventmarketing
Source: TLC Creative Technology
Share: