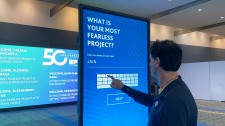 Interactive experiences created for an annual conference included large touchscreens, and 60-foot wide media walls that shared messages from participants from all over the world. The branded experiences were created by TLC Creative in a rapid turnaround that was delivered in a matter of days.
PHILADELPHIA, January 21, 2020 (Newswire.com) - Interactive experiences connected conference participants at a recent national convention, using tall touchscreens and a custom interface that collected participant data and created a focal point on 60-foot wide 'media sharing' walls. The interface was designed and installed in less than two weeks by TLC Creative Technology, who provided the custom application and brilliant branded motion graphics on the large screens.
The TLC APP interface created energy, and photo-ops, as guest's messages were instantly shared to the large video walls, becoming a social focal point at the event. The APP collected event feedback, and breakout session ideas, plus other data collection points that were valuable to the organization hosting the event.
A rapid deployment is a challenge for most content creators, but TLC was able to design and create animated brand graphics and the APP interaction for the conference quickly. The video walls and touchscreens satisfied client expectations, and exceeded them with a celebration of a new brand reveal across the multi-day conference.
The tall kiosks presented guests with a unique question each day of the event, inspiring creativity and interaction. Meeting other attendees and sharing ideas and messages on the video walls became a highlight of the conference.
TLC creates media for top brands at events, and branded shows and presentations for conferences and meetings. Unusual format video production is a specialty of TLC, providing corporate events and sports venues with creative media, shows, and themed audio and video experiences.
TLC provides event services, technical production support, live special effects, kabuki, and projection effects. Live stage effects from TLC include water-screens, pyrotechnics, fog effects, and Xylobands, LED wristbands, the brightest live controlled audience wearable made famous by Coldplay.
TLC also provides new technology Hypervsn "holograms" called floating video, which uses bright LED to create 3D imagery that appears to float in mid-air.
Visit TLC: https://tlciscreative.com
Contact TLC Creative Technology
Phone: 310-822-6790
Email: TLC@TLCisCreative.com
Discover TLC on social media:
TLC INSTAGRAM
TLC FACEBOOK
TLC PINTEREST
TLC TWITTER
Media Contact:
Jeff Ward
Phone: 310.822.6790
Email: TLC@TLCisCreative.com
#eventprofs #corporateevents #conferences #meeting #video #eventmarketing
Source: TLC Creative Technology
Share: