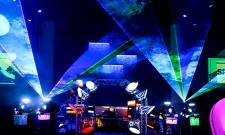 Meeting planners will be experiencing new special effects and LED effects ideas from the event innovators at TLC Creative Technology at this year's Meeting Planners International annual World Education Conference in Toronto, Canada, next week. The MPI WEC 2019 opening reception event is set to blast off with a live special effects and laser show by TLC, kicking off the conference with an immersive, dynamic demonstration of special effects entertainment.
TORONTO, June 13, 2019 (Newswire.com) - "Experiences beyond expectation" is how technical production company TLC Creative Technology describes their use of new technology and their surprising use of live special effects to energize special events, meetings and conferences. MPI (Meeting Planners International) will be meeting in Toronto next week for their MPI World Education Conference​ 2019, and will see innovative event ideas demonstrated by TLC.
The MPI conference opener will feature a special laser and special effects show created by TLC to kick off the event. TLC's lasers, and white sparkle fountains will erupt in a live effects sequence, showing meeting planners the latest high-energy ways to start events by raising the bar and exceeding expectations. TLC special laser effects include dimensional laser cones and laser tunnels that create unique experiences for live audiences. TLC uses lasers to catch everyone's attention, as lasers travel off the stage and include the audience in the show.
"A great way to kick-off any event is an opener that surprises and motivates," says Kevin Bilida, owner and president of TLC Creative. "People being immersed into brilliant laser tunnels or experiencing a powerful, concert quality light-show for a meeting opener, these are ways to pull people out of the routine and into a high-level anticipation state, perfect for any meeting or conference."
The Toronto MPI conference will also feature TLC effects at Michael Cerbelli's The Hot List™: 2019​, a one-stop showcase for new ideas for events. Floating video 'hologram's from TLC, dancing water tubes, LED light effects, LED tubes, glowballs and xylobands, intelligent LED wristbands inspire event designers to think out-of-the-box for creating unique event experiences. TLC has been honored before to work with Michael Cerbelli and his team at Cerbelli Creative, and Kevin, and the TLC team are preparing to create excitement at this year's Hot List.
Meetings with LED lanyards, using the live light-up technology from Xylobands, are one way TLC energizes meetings. The light-up lanyards synchronize attendees with the power of light. Live special effects and laser projections, in addition to the Xylobands, combine to create engaging conference presentations.
MPI World Education Conference 2019 > learn about MPI
TLC will also be presenting at the MPI Village Floor expo -- showcasing Xylobands and new technology 'holographic' displays that are dazzling people at all kinds of special events and exhibits.
Venues, resorts and special events are using the floating video technology for its incredible "holographic effect." 3D branding and messaging that grabs immediate attention as people, surprised to see how unique it is, stop to watch. Dwell time means that brands presented on this new technology are getting high-value impressions and an association with new technology that boosts the brand image.
XYLOBANDS USA > Light-up Wristbands
Visit TLC Creative at MPI WEC Village Floor where they will showcasing innovations for events.
The MPI WEC will be held at The Metro Toronto Convention Centre June 15-18, 2019
The award-winning production team at TLC creates event experiences with live special effects, water-screens, fog bursts, lasers, Xylobands LED bracelets and lanyards, and other new technologies for live events.
Contact TLC Creative Technology for information on live special effects, lasers, 'holographic' floating video, xylobands, team drone piloting, dancing drones shows, and creative uses of drones for special events.
Phone: 310-822-6790
Email: TLC@TLCisCreative.com
Discover TLC on social media:
Source: TLC Creative Technology
Share: