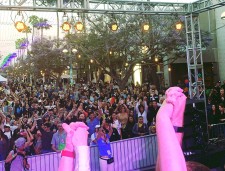 Santa Monica's gay pride festival featured the light up wristbands known as Xylobands, provided by the live special effects team, and event technical production providers TLC Creative. TLC also provided LED tubes and lighting effects, as well as staging, video, audio and lighting for the outdoor festival event.
SANTA MONICA, Calif. , June 18, 2019 (Newswire.com) - TLC Creative brought light up wristbands for a special moment at the ​Pride on the Promenade Festival in Downtown Santa Monica on Saturday, June 15, 2019. The SaMo PRIDE signature moment featured Santa Monica Mayor Gleam Davis and Glamazon Prime and the light-up rainbow colors on Xylobands, the intelligent LED wristbands made famous by Coldplay.
​TLC CREATIVE - LED WRISTBANDS >
The festival event featured a celebration of the LGBTQ+ community with live theater and musical performances, a DJ dance party, youth art project, games, Instagramable moments, an LGBTQ+ resource center, food, drinks and the signature PRIDE moment with the Xylobands.
Xylobands are a wearable technology phenomenon, creating light shows at events around the world. Wearing the LED wristbands; guests are suddenly part of the show, immersed in the controlled lighting they are wearing. The interactive experience creates lasting memories because Xylobands connect everyone to the event, and to each other.
SANTA MONICA PRIDE on the PROMENADE >
TLC provides technical production for Santa Monica, including holiday events, the annual ice-skating rink, and special events. TLC simulated a demolition for Santa Monica Place, with live special effects, and pre-rigged a mall sign to crash down on cue during the media event. The creative 'demolition' event was covered by all the local media and the special effects event went national as well.​
The award-winning production team at TLC creates event experiences with live special effects, water-screens, fog bursts, lasers, Xylobands LED bracelets and lanyards, and other new technologies for live events.
Contact TLC Creative Technology for information on live special effects, lasers, 'holographic' floating video, xylobands, team drone piloting, dancing drones shows, and more.
Phone: 310-822-6790
Email: TLC@TLCisCreative.com
Discover TLC on social media:
Source: TLC Creative Technology
Share: