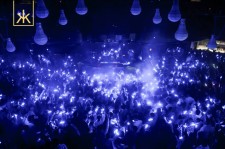 Tiesto at Hakkasan Las Vegas has upgraded the experience for club-goers at the famous Las Vegas nightclub with the world's brightest intelligent LED wristbands.
Las Vegas, Nevada, January 12, 2017 (Newswire.com) - Nightclubs, concerts, and live music events are creating synchronized LED light shows with wearable light-up wristbands called Xylobands. TIESTO is showing off the new 360 degrees of light Xylobands at Hakkasan Las Vegas, lighting up the club with interactive energy.
Xylobands, made famous by Coldplay, feature brilliant, colorful light effects that make every person part of the event. LED wristbands are a huge popular phenomenon around the world.
The imersive experience is so ground-breaking that event planners are contacting Xylobands USA, based in Los Angeles, CA, to light-up guests at all kinds of live music and special events.
VIDEO - TIESTO @ Hakkasan with Xylobands USA
​Xylobands USA recently lit up the audience for Maroon 5 on The Voice, and at live special events for Bruno Mars, Usher, Shakira, Linkin Park, and at corporate and private events of all sizes.
For more information on Xylobands, visit the website at http://xylobandsusa.com/
Explore other technologies for live events at TLC Creative Special Effects www.TLCisCreative.com
Contact TLC Creative for live special effects or LED wristbands or LED lanyards for your next event.
310-822-6790 or 800-447-3585
Inquiries to TLC@TLCisCreative.com
Source: Xylobands USA
Share: