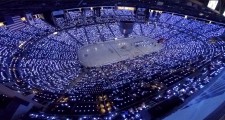 Lady Gaga's show featured audience lighting effects made famous by Coldplay
Houston, TX, February 8, 2017 (Newswire.com) - Exciting, colorful light effects moving across performers and the entire stadium marked another step forward in LED light shows in live entertainment at this week's halftime show with Lady Gaga.
The halftime show featured LED audience technologies to full effect; dancers holding lights, and grandstands filled with color and dynamic motions.
LED effects light up the audience, where, until now, it was the 'dark' area at the event. 'No more' says lighting designer Mark Silverstein, "Now, the crowd creates a primary visual element in the show, everyone creating a living mass of moving light!."​
Xylobands launched the phenomenon with LED wristbands, dmx controllable systems using RF for superior shows. Over 11 million people have experienced the original light-up bands made famous by Coldplay, and now all kind of public and private special events are using Xylobands to light-up the audience.
The world's top DJ; TIESTo, has added Xylobands from Xylobands USA at the Hakkasan nightclub in Las Vegas.
LED light shows from Xylobands USA have been energizing games for NHL and NBA events, especially the recent Arizona Coyotes opener that filled the stadium with colorful displays of brilliant and dynamic light effects created with over 250,000 LED's.
Explore other technologies for live events at TLC Creative / Xylobands USA
Contact TLC Creative (www.TLCisCreative.com | 310-822-6790 or 800-447-3585) for live special effects or Xylobands for your next event.
Email Inquiries to TLC@TLCisCreative.com
Source: Xylobands USA
Share: