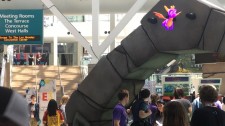 Hypervsn is a new 3D technology that creates 'holograms' floating in mid-air, on show this week at E3, the gaming expo in Los Angeles. TLC Creative Special Effects created a large 'holographic' display of Spyro the Dragon at E3, in Los Angeles, using a blended matrix of multiple Hypervsn screens. While not actual holograms, the 3D LED display appears to viewers as imagery floating in air.
LOS ANGELES, June 13, 2018 (Newswire.com) - Spyro™ the Dragon is flying and bursting with fire on see-through "holographic" screens above attendees at E3 2018, the gaming expo now at the Los Angeles Convention Center.
The "holographic" special effect from TLC Creative Special Effects is called Hypervsn. The 3D LED isn't a hologram, however. Hypervsn is the world's first high-resolution mid-air display that has people claiming "hologram," although it uses a patented new technology with very bright LEDs to create the 3D holographic effect.
Activision is celebrating Spyro's 20th anniversary and his official "reignited" return this Sept. 21 with the Spyro™ Reignited Trilogy. Spyro Reignited Trilogy introduces players to a fully remastered game collection of the three original Spyro™ games that launched the iconic character: Spyro™ the Dragon.
Activision saw the potential for a special experience at E3, imagining Spyro's exciting return by literally floating in the air above the fans. TLC worked closely with Activision and achieved the "holographic" effect using TLC's blended matrix Hypervsn USA 3D LED screens. Spyro flying overhead is the first use of Hypervsn "holograms" at E3.
HOLOGRAPHIC WALLS Blended Matrix Hypervsn - TLC Creative >
E3 is a showcase in the exhibit industry, attracting and motivating the high-technology interests of gamers. The exhibit booths are state-of-the-art, immersive experiences. Exhibits by Activision and other entertainment companies and the console makers Playstation, Xbox and Nintendo, among others, all compete with unique and spectacular displays.
Hypervsn brings a new type of display to E3 and is surprising people with the new large "video walls" using Hypervsn USA. TLC Creative is pushing the envelope of what Hypervsn 3D LED display can do, creating "holographic walls" of continuous imagery up to 10 feet wide using a blended matrix of multiple Hypervsn screens. The exhibit and set-building experts at The Scenic Route created the Spyro entrance arch for E3 and incorporated the multi-screen Hypervsn display designed by TLC Creative.
E3 2018 - ELECTRONIC ENTERTAINMENT EXPO >
TLC Creative has provided production and live special effects for previous E3 expos, including a special effects showcase for Sony Playstation last year. TLC filled the massive Shrine Theater in downtown LA with immersive special FX for the E3 event for Sony. The Playstation event included new technology intelligent water-screens that create designs and logos in the falling water, as well as live special effects such as fog fx, wind and fire, sparks, pyrotechnics, even bubbles and snow effects.
Contact TLC Creative for more information on technical production and for live special effects.
310-822-6790
email:
TLC@TLCisCreative.com
Source: TLC Creative Special Effects
Share: