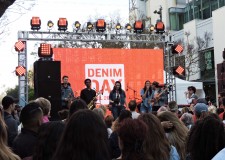 Denim Day event in Santa Monica featured technical and event services by TLC Creative of Los Angeles
Santa Monica, CA, April 28, 2017 (Newswire.com) - In honor of Denim Day 2017, GUESS Foundation and Peace Over Violence hosted a live concert at the Third Street Promenade in Santa Monica, California, featuring event technical production by TLC Creative Special Effects. For over 15 years Santa Monica has depended on TLC for staging, audio/visuals, live special effects, and creative experiences.
TLC creates many high-profile special events with Third Street that energize the Promenade and create national media attention and coverage. From retail events to the Holiday Tree lighting events and artificial snow during the holidays, TLC has provided production as well as unique and exciting special effects.
The GUESS Foundation event created a focus for Denim Day in Los Angeles. Denim Day has evolved into a global movement, and wearing jeans on Denim Day has become a symbol of protest against erroneous and destructive attitudes about sexual assault.
Santa Monica includes two of the Los Angeles area's most visited attractions; the pier and the Third Street Promenade, an outdoor shopping area that boasts sunny skies and chic retail as far as the eye can see. Downtown Santa Monica also uses TLC production for special events, including their annual ice skating rink and snow effects for the holidays.
Unique events are part of TLC's specialty; TLC created a simulated demolition for Santa Monica Place, with sounds and live special effects, and TLC pre-rigged the old mall sign to crash down on cue during the show. The creative event was covered by all the local media and the event went national.
TLC will be at Los Angeles City Hall next week to help create the Pacific Islanders Festival.
Contact TLC for more information on technical production and for live special effects.
For more information, contact TLC at 310-822-6790.
Email TLC@TLCisCreative.com
TLC Creative Special Effects
310-822-6790
Source: TLC Creative Special Effects
Share: