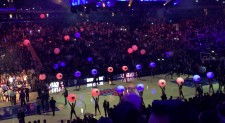 New technology LED light-up balls and light-up costumes provided by TLC Creative Special Effects create visual impact at this years season opener for the New York Knicks
New York, NY, November 11, 2016 (Newswire.com) - Inflated spheres of flashing light are released into the audience at Madison Square Garden to create an interactive show experience. The NY Knicks are making sure everyone in the audience is part of this new kind of light show.
Dozens of light up LED glowballs, by TLC Creative Special Effects, created interactive, visual energy at this year's opener for the New York Knicks. The Knicks City Dancers performed with TLC's glow balls on the basketball court, while more glow balls were bounced down to the court by excited fans. The light up balls are controlled live, synchronizing the colors and effects to the music.
VIDEO > NY KNICKS live season opener Madison Square Garden
LIGHT-UP DANCE SUITS by TLC - The Knicks City Dancers light up with LED Light-Up-Suits, custom LED costumes created for the Knicks by TLC. The DMX controlled light-suits animate colors in sync with mapped projections, a dazzling combination!
VIDEO > GLOWBALLS Light Up all kinds of events
LED light shows are a new phenomenon at stadium events, with all kinds of balls, tubes, and wearable LED technology, like Xylobands, the light-up wristband made famous by Coldplay. TLC uses Xylobands and Glowballs to create light effects that surround and envelope audiences at sporting events, as well as corporate special events. TLC created the opener for the Arizona Coyotes and lit up over 250,000 LED's in one show, a colorful and very bright light show the audience was wearing on their wrists.
VIDEO > ARIZONA COYOTES Xylobands!
TLC provides live special effects like glowballs, Xylobands, and custom LED entertainment. Cutting edge technologies are creating a new era of LED LIGHT SHOWS, and TLC is pioneering new LED effects for new excitement at all kinds of events, large or small.
For more information contact TLC at 310-822-6790
Email TLC@TLCisCreative.com
Visit us at TLCisCreative.com
TLC Creative Special Effects
310-822-6790
Source: TLC Creative Special Effects
Share: