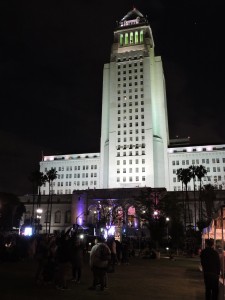 A quick technical load-in for an outdoor concert festival creates an instant special event celebration in downtown Los Angeles
Los Angeles, CA, May 8, 2017 (Newswire.com) - This weekend, Los Angeles held a new annual event: IDENTITY LA, a music festival celebrating Asian Pacific Americans and cultures. The outdoor concert was quickly set up on Saturday morning, and filled downtown with people, music and energy in spite of a few rain drops.
The IDENTITY LA festival was held on May 6th at Grand Park in Downtown Los Angeles and featured performer Dean, as well as other artists, musicians and DJs.
Presented by the City of Los Angeles, Councilmember David Ryu, and the International Secret Agents (ISA), the IDENTITY LA music festival featured live performances by internationally renowned Asian Pacific American (APA) artists and entertainers, food trucks and more. The concert event highlighted APA history and showcased APA's contributions in shaping the social, cultural, and economic future in Los Angeles.
The festival came together with the technical direction by TLC Creative, which contributed technology and live special effects for the outdoor event. Fog bursts created high energy, adding visual excitement for the live performances.
Staging, video, sound, and live special effects were provided by Los Angeles technical production company TLC Creative. TLC energizes all kinds of outdoor public events, as well as conferences, sporting events, corporate theater, and film/TV production. From "The Voice" to "America's Got Talent," TLC brings live special effects to the top live shows.
Sporting events get creative show cues and unique moments from TLC. TLC is known for live special effects and reveals for the Los Angeles Lakers, the New York Knicks, Phoenix Coyotes, as well as numerous civic events in L.A. for the Los Angeles Football Club, and for Third Street Promenade in Santa Monica.
Flying cameras provided aerial views of the event, and drones are also providing unique entertainment. Drone shows feature mesmerizing ballets of motion, and creative displays of a new technology.
Contact TLC for more information on technical production and for live special effects.
For more information, contact TLC at 310-822-6790.
​Email TLC@TLCisCreative.com
TLC FACEBOOK
TLC PINTEREST
TLC TWITTER
TLC Creative Special Effects
310-822-6790
Source: TLC Creative Special Effects
Share: