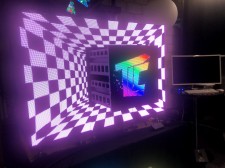 Video walls that literally move are creating unique experiences at events and exhibits. Motorized video tiles are programmed in sync with video content to move in three dimensions. The new technology LED displays are creating a dazzling visual combination that is like nothing else.
LOS ANGELES, January 28, 2020 (Newswire.com) - Imagine a three-dimensional video wall come to life before your eyes, moving toward and away from you. Moving video tiles are surprising people with eye-popping visual impact. It's called 'Motorized Dimensional Video Tilez', direct from the technical production team at TLC Creative Technology.
TLC brings new, and unique, LED Video products to events and exhibits, and the moving video tiles are so far out-of-the-box, they are creating totally unexpected experiences. Visual and animated effects on a mixed resolution LED wall are programmed with video tiles that move in surprising ways.
Dimensional video from TLC includes circles of LED, waves, and curvy shapes, and is made possible with new 'soft-pixel' technology that allows unlimited shapes of LED video.
Two sizes of moving tiles are available in the dimensional tile displays. One moving video type uses 4; 10 inch blocks, that extend 18 inches as they move. A different mini-block style uses 6 inch video tiles configured into 16 individual moving segments.
​Motorized Dimensional Video Tilez >
​TLC provides new technology Hypervsn "holograms" floating video that uses bright LED to create 3D imagery that appears to float in mid-air. Hypervsn is the premiere use of the floating video screens, with brilliant LED that stands out, even in bright light.
TLC creates media for top brands at events, and branded shows and presentations for conferences and meetings. Unusual format video production is a specialty of TLC, providing corporate events and sports venues with creative media, shows, and themed audio and video experiences.
TLC provides event and video services, technical production support, live special effects, and projection effects. Live stage effects from TLC include water-screens, pyrotechnics, fog effects, and Xylobands, LED wristbands, the brightest live controlled audience wearable made famous by Coldplay.
Visit TLC: https://tlciscreative.com
Contact TLC Creative Technology
Phone: 310-822-6790
Email: TLC@TLCisCreative.com
Discover TLC on social media:
TLC INSTAGRAM
TLC FACEBOOK
TLC PINTEREST
TLC TWITTER
Media Contact:
Jeff Ward
Phone: 310.822.6790
Email: TLC@TLCisCreative.com
Source: TLC Creative Technology
Share: