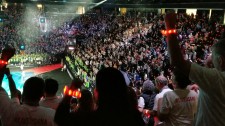 Xylobands intelligent LED wristbands lit up everyone at an annual conference for nutrition company Usana. Xyloband light effects were lighting up with immersive light show experiences created by the special effects team at TLC Creative Special Effects. The LED wristbands were synchronized with other LED effects creating unique experiences that raised the event energy.
SALT LAKE CITY, August 28, 2018 (Newswire.com) - The multi-level marketers at Usana really know how to put on a great show for their team, and this year's convention at the Vivint Smart Home Arena in Salt Lake City was no exception. Unique and immersive light shows were created with bright LED wristbands and an interactive, basketball-sized LED floor.
The amazing light shows featured Xylobands from TLC Creative Special Effects, a Los Angeles-based event technical production company. The brilliant light and colors from the LED wristbands, shining with 360 degrees of light, lit up the entire arena. The Xylobands lights were dancing in sync with the music and videos, and boosting the energy for everyone in the event.
Xylobands, the light-up wearable LED technology made famous by Coldplay, is now being used for motivating people at all kinds of special events. TLC designed original programming for the Xylobands at Usana's multi-day events. TLC's light-up effects synchronized the LED wristbands to live cues in the presentations and to the light-up LED video floor, a new effect that has never been done before.
BRIGHTEST WRISTBANDS AVAILABLE
Xylobands are so bright, they engage and excite guests as everyone becomes part of the show. The experience is so unique that it works on any scale and is being used at corporate and private events of all sizes. The motivational power comes from being the brightest live-controlled wristbands available, with 360 degrees of light that are meant to be seen, and the timing of the synchronized light effects that makes everyone feel connected.
The live special effects team at TLC has worked closely with Usana, bringing all kinds of live special effects to energize events in Salt Lake City and in Singapore. TLC creates special effects from fire, flames, pyrotechnics and fog, to water and snow effects. New LED displays like Hypervsn Floating Video and shaped LED video are becoming an important part of TLC's arsenal to make events look unique.
MOTIVATIONAL EVENT PRODUCTION
TLC draws everyone into the live experience using new technologies for events. "TLC combines the thrill of live special effects with new kinds of LED lighting effects, like Xylobands, to create sensory experiences that make live events more extraordinary," says Kevin Bilida, CEO/team leader of TLC Creative Special Effects.
GLOWBALLS LIGHT UP INTERACTION
Coldplay's glow balls are yet another way TLC creates unforgettable experiences at stadium and large events, much like the innovative Xylobands LED wristbands. The inflatable Glowballs add colorful light-up effects with live control, as well as DMX control, and are used to build interactive crowd energy. TLC uses Glowballs in New York's Madison Square Garden with the NY Knicks. Glowballs also float on water, pools and fountains, bringing light-up effects to outdoor events near water.
TLC Creative info > LED WRISTBANDS, GLOWBALLS
Light-up Glowballs, LED bracelets and LED lanyards are bringing Xylobands technology to corporate and private events of all sizes. T-Mobile, Budweiser, Nuskin, Microsoft and Expedia are global brands energizing their events with LED light shows and LED effects from TLC Creative.
Usana is the 24th-largest multi-level marketing company in the world, producing nutritional and skincare products that are sold in 24 countries. High-energy productions including special effects, Xylobands and cutting-edge stage effects are part of Usana's skills at motivating event participants.
Contact TLC Creative for more information on Xylobands and technical production and for live special effects.
TLC Creative: 800-447-3585
Email TLC@TLCisCreative.com
Visit TLC: TLCisCreative.com
Source: TLC Creative Special Effects
Share: