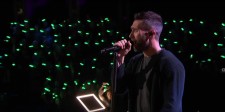 Los Angeles, CA, December 3, 2016 (Newswire.com) - Adam Levine and Maroon 5 performed on The Voice using new technology LED Wristbands made famous by Coldplay.
LED wristbands filled the bands performance with a tapestry of bright light, waving through the crowd, hands held high. The Intelligent light up wristbands are creating new impact in live events, and for television shows, where the entire audience is glowing in sync with the music.
Xylobands were used to create the Maroon 5 LED displays that lit up sections of the crowd in different colors and effects. Adam Levine's passionate performance of 'Don't Wanna Know' was a major highlight of this seasons The Voice.
LED light shows from Xylobands USA have been energizing season openers for NHL and NBA events, especially the recent Arizona Coyotes opener that filled the stadium with colorful displays of brilliant and dynamic light effects created with over 250,000 LED's.
Explore other technologies for live events at TLC Creative Special Effects
Contact TLC Creative Special Effects (www.TLCisCreative.com | 310-822-6790 or 800-447-3585) for live special effects or Xylobands for your next event.
Inquiries to TLC@TLCisCreative.com
Source: Xylobands USA
Share: