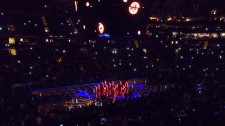 The NY Knicks use cutting-edge technologies to impress New York audiences that have seen everything, like LED suits that animate colors and effects on the Knicks City Dancers bodies, amplifying the visual energy of their performances.
New York, NY, November 11, 2016 (Newswire.com) - Light-Up costumes are becoming an exciting new visual effect at shows and events, as new LED technologies create ever more brilliant lights in smaller and smaller LED's. Los Angeles based TLC Creative Special Effects is creating unique LED light shows using light up outfits, like the one's seen in this years season opener for the New York Knicks.
TLC's light suits for the Knicks City Dancers use DMX control to sweep colors across the costumes and up and down the dancers bodies, coordinated with the video mapped projections. The combination of the graphics projections and the brilliant light effects on the LED apparel create a colorful and dazzling display.
VIDEO - NY KNICKS Season Opener
Light up LED Glowballs, Tubes, Spheres, and LED wristbands and LED lanyards, as well as custom LED costumes, are part of a new era of entertainment, bringing new kinds of light shows to live events. TLC's LED technology is exciting to see at events of all sizes, from stadium events to company meetings.
TLC Creative Special Effects - Visit the site​
TLC also created the 360 video cylinder / screen-drop opener show for the Los Angeles Lakers, now starting it's 10th year at Staples Center. TLC is North America's primary source for Xylobands, the LED wristbands made famous by Coldplay, now used at corporate and private special events.
TLC provides live special effects like glowballs, Xylobands, and custom LED entertainment. Cutting edge technologies are creating a new era of LED LIGHT SHOWS, and TLC is pioneering new LED effects for new excitement at all kinds of events, large or small.
For more information contact TLC at 310-822-6790
Email TLC@TLCisCreative.com
TLC Creative Special Effects
310-822-6790
Source: TLC Creative Special Effects
Share: