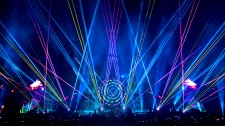 Coldplay's record-breaking tour 'A Head Full of Dreams' is thrilling fans and lighting up stadiums with spectacular visual technology. Laser effects have energized many of Coldplay's U.S. performances since 'Clocks' debuted on the Jimmy Kimmel show, with laser aerial effects created by TLC Creative.
SEATTLE, September 4, 2017 (Newswire.com) - Lasers and Xylobands lighting up with live music are ways that Coldplay fills the venue at their shows, connecting to every person at their concerts. Even in the very back row, people feel connected to the band, and the whole event, with these live special effects.
Coldplay takes on the tradition of laser effects in rock concerts that go back to the 70's with classic bands like Led Zeppelin, Yes, and Rush, and usually with green laser beams. Lasers are again popular for modern acts like Coldplay, Katy Perry, and Muse, using more colorful laser effects from solid-state RGB lasers. Beyonce, top hip-hop acts, and dance festivals like EDC, are using lasers that allow lots more lasers and placements anywhere on set, compared to the limitations of water-cooled lasers in the early days of laser entertainment.
Laser effects are like nothing else. Laser beams literally reach off the stage, compelling everyones eyes to go directly toward the stage. Lasers are a simple, and powerful, way to engage people.

Jeff Ward, Logistics & Production Manager
Back in 2002, Coldplay called up TLC Creative to add a laser show to their performance on Jimmy Kimmel's debut show. TLC used a classic high-powered yag laser to fill the sky above the band, performing 'Clocks' debut live on Hollywood Blvd. TLC became nationally famous in the 1980's as the Talking Laser Company, and have been presenting professional laser shows for almost 40 years, creating indoor and outdoor entertainment using live special effects.
Today TLC creates both laser aerial effects shows and laser projected shows for events, and for TV's top live and filmed productions, from America's Got Talent to Dancing with The Stars, and David Guetta to Usher for music videos. Gwen Stefani recently shot a new ad for Loreal at LA Live, with TLC Creative laser effects making a 'concert scene'.
TLC Creative Laser Shows & Laser Effects >
Coldplay's creative use of mid-air laser beams and laser colors that match the show design, bring vivid purple and green beams to fill the air for A Sky Full of Stars. Coldplay's laser production is perfectly integrated into the light show experience. While TLC isn't part of the ongoing current tour, they did provide lasers for the A Rush Of Blood To The Head tour, which is celebrating its 15th anniversary.
YouTube > Coldplay live! A Sky Full of Stars
Multiple-fx shows with lasers is a TLC specialty; like a show for the SF Giants that incorporated a TLC soundtrack for laser projection onto the field, and synchronized with fireworks at the stadium in San Francisco. Laser projection is a rarely seen laser technology, after its launch in planetarium light shows in the 70's and 80's. TLC features laser projection experts that create illustrated graphics and 'laser visual music' to corporate theater and public events.
TLC Creative also creates Xylobands events with its Xylobands USA division, having created many dozens of LED light shows for corporate events, meetings and sporting events of all sizes. Xylobands USA also provides Glowballs and intelligent wristbands and intelligent LED lanyards for special events.
Xylobands USA - Live Special Effects >
Coldplay's A Head Full of Dreams tour continues next month at CenturyLink Field in Seattle, Washington, on Sept. 23, 2017.
Contact TLC Creative for more information on technical production and for live special effects.
For more information, contact TLC at:
310-822-6790
Source: TLC Creative
Share: