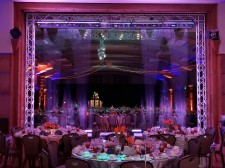 INDIANAPOLIS, April 11, 2019 (Newswire.com) - ​​​Water screen technology has advanced into interactive and intelligent displays that are energizing special events with new kinds of up-close experiences with water. The technical production team at TLC Creative Special Effects are providing water shows and water screens for projection effects and for "intelligent water screens" that showcase images and logos in the falling water. TLC also creates water effects for live TV and stage shows, bringing "rain" and water fountains to places that audiences least expect.
New kinds of water screens at special events are used for unique and interactive experiences. The sound and rush of a very thin wall of falling water can now be placed very close to guests, allowing water screens to become a beautiful, and fun, detail at all kinds of events.
Even elegant, formal "gala" events can feature water with the surprise of projections on water or use intelligent, digital-control water screens to open and close an event walk-way. A variety of interactive water screens, and water shows, are provided by TLC Creative Special Effects, event technical production providers and new technology pioneer for events.
The TLC "water entrance opening" effect inspires event guests to pose for photo ops within the water screen display. Guests delight in posing "inside" a water-wall. As people get their special moment in the water screen, the water flow shuts off and keeps the guests completely dry.
WATER EFFECTS & WATER SCREENS TLC > https://tlciscreative.com/services/live-special-effects/water-effects/
Event planners are encouraging clients to use this interactive water walk-way entrance for water screen events as "water screen selfies" go big with social media sharing. People of all ages are inspired while moving through the water screens and since the effect can be placed anywhere, the media captured by the party goers can show off any kind of event or venue details.
Intelligent water screens create designs and images in the falling water. TLC has created message-based water screens shows for Sony PlayStation, Adobe, and many others. Seeing designs and the brand logos in water is a surprise to viewers of the intelligent water displays.
Water screens are a great projection surface for laser and video projection effects and TLC creates dynamic visual impact with the combined technologies. Adding laser and lighting effects to video projection mapping is part of how audiences are dazzled by the mapping technology. TLC's 360-degree cylinder of projection mapping for the Los Angeles Lakers game intros is well-known in the event production world as one of the largest ongoing video and kabuki drops in North America.
TLC also provides new technology dancing water tubes and water fountains for special events of every kind. The dancing water tubes enclose a powerful water fountain and a bright uplight so water shows can be moved anywhere. Entrances and exhibits are enlivened with the splash and color of dancing waters.
DANCING WATER TUBES > https://tlciscreative.com/highlights/dancing-water/
TLC creates wireless LED effects for events, projection mapping and laser displays, holographic projections, fireworks and water shows. Floating video "holograms" are a cutting-edge new type of 3D, mid-air display from TLC that is energizing events and exhibits.
Xylobands (made famous by Coldplay) is a key service for TLC, lighting up audiences with the world's brightest intelligent LED wristbands. Live controlled light effects are immersing event goers into unique experiences they will never forget.
GLOWBALLS FLOATING ON WATER > https://tlciscreative.com/blog/glowballs-light-up-balls/
Providing live special effects to the entertainment industry, as well as to the corporate events world for almost 40 years, TLC Creative is at the forefront of new technology for special events. New effects from TLC, like Floating Video "holograms" and Dancing Drone Shows, are giving event planners new ways to make exciting experiences at events.
Contact TLC Creative at 310-822-6790
Media Contact:
Jeff Ward
Phone: 310-822-6790
Email: TLC@TLCisCreative.com
Source: TLC Creative Special Effects
Share: