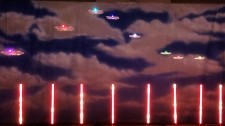 LOS ANGELES, March 13, 2019 (Newswire.com) - A breathtaking, and unique, sight is flying into view at special events. 'Dancing' aerial drones, flying to music in choreographed ballets of movement and light, are creating inspiring experiences for audiences.
The event technical producers, and live special effects team at TLC Creative Special Effects is creating dancing drone shows for meetings, and for public, and private events. Dancing drone shows with miniature aircraft doing coordinated moves in mid-air is a unique new experience that is in high demand in the events industry.
When VIP's on stage interact with 'talking' aerial drones hovering nearby, the experience of new technology goes to the next level, creating immediate fascination, and an opportunity for humor.
"Seeing a fleet of dancing drones do twirls, spins, and swoops is a new form of visual entertainment, especially when coordinated with dynamic music and lights," says Kevin Bilida, owner and president of TLC Creative.
DANCING DRONES - TLC TRIPLE EVENT >>>
TLC Creative recently created a 'triple' aerial drone show to illustrate a company event theme of 'Soaring to new heights'.
"This aerial themed event started out with an open video created by TLC onsite. A high-energy video kick-off of drones exploring the hotel area, and discovering the meeting place inside the hotel. The live dancing drones show sequence took off, and then a fun moment occurs that really pushes the meeting into high-gear; a drone flies over the stage and 'communicates' with the event VIPs using sound effects and then flies off. A perfect meeting opener, creating attention and fascination."
TLC - DRONES & HELICOPTERS >>>
TLC is creating original drone shows to energize corporate and special events. TLC also provides flying cameras for streaming aerial video views live to event screens (Air to Ground), and TLC stages special team drone racing challenges at events.
Drone piloting challenges by TLC Creative are engaging guests with a new way to create team bonding, with hands-on aerial drone piloting for competitions and fun.
TLC LIVE SPECIAL EFFECTS >>>
The award-winning production team at TLC creates event experiences with live special effects, water-screens, fog bursts, lasers, Xylobands LED bracelets and lanyards, and other new technologies for live events.
Contact TLC Creative Special Effects for information on team drone piloting, dancing drones shows, and other creative uses of drones for special events.
Phone: 310-822-6790
Email: TLC@TLCisCreative.com
Discover TLC on social media:
Source: TLC Creative Special Effects
Share: