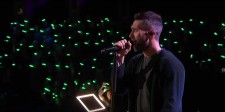 ATLANTA, February 2, 2019 (Newswire.com) - The 'Big Game' halftime always features the most exciting and newest special effects and this year's show promises to be no exception. Maroon 5 will be this year's main act, a band known for dynamic shows, and TLC Creative Special Effects has worked with the band at numerous events. TLC brought LED wristbands to light up audiences with Maroon 5 at private events large and small.
Maroon 5's live performance at this Sunday's NFL championship game halftime show is considered the top live musical performance in the U.S. Seen by more people than any other musical performance, the halftime shows are famous for presenting the most creative and spectacular stadium shows.
TLC CREATIVE SPECIAL EFFECTS > https://tlciscreative.com/
This year's show details, like all big game halftime shows, are a closely guarded secret to keep the anticipation level high. The surprise special effects are carefully created for the stadium event and for TV, whether they feature aerial drones or wireless light effects. The Los Angeles-based production team at TLC Creative Special Effects has been part of NFL championship game productions starting with a show featuring No Doubt and helping Shania Twain "fly" up (on a crane) with balloons.
MAROON 5 Website > https://www.maroon5.com
Adam Levine and Maroon 5 performed on "The Voice" showcasing new technology LED wristbands made famous by Coldplay and provided by TLC. Adam Levine's passionate performance of "Don't Wanna Know" was a major highlight of "The Voice."​ Xylobands were used to create the Maroon 5 light show that lit up sections of the crowd in different colors and effects.
Maroon 5 performs at private events and Xylobands add visual energy to the entire room, including every person in the live controlled light shows. TLC Creative performs the Xyloband light shows at all kinds of events, having illuminated events across North America, the Caribbean and Central America.
XYLOBANDS USA > http://www.xylobandsusa.com/
LED light shows from Xylobands USA have been energizing season openers for NHL and NBA events, especially a recent Arizona Coyotes opener that filled the stadium with colorful displays of brilliant and dynamic light effects created with over 250,000 LEDs.
Big Boi and Travis Scott will perform with Maroon 5 in Sunday's big game halftime show.
The NFL championship game will take place at Mercedes-Benz Stadium in Atlanta. It's the first NFL championship game hosted at the new Atlanta stadium.
The award-winning production team at TLC create event experiences with live special effects, drone entertainment, Xylobands interactive events and with other new technologies for live events.
For more information contact TLC Creative Special Effects.
310-822-6790
Email:
Discover us on Social Media:
Source: TLC Creative Special Effects
Share: