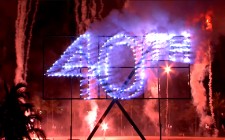 Music medleys are an important part of fireworks shows for high-quality corporate and private events. Special effects and fireworks produced by TLC Creative, Los Angeles based technical production company, use popular and themed music soundtracks to sync the show and inspire the viewers. Fireworks are just part of the multimedia, multi-fx light-shows created for company celebrations.
LOS ANGELES, July 3, 2018 (Newswire.com) - Fireworks thrill everyone with the primal energy of fire itself. Colorful bursts and streaks of light in the sky are exciting to watch, but the experience is made even richer when the effects are timed to a dynamic and entertaining soundtrack.
Music medleys are how TLC Creative Special Effects makes fireworks shows for corporate and private events more special, with popular and themed music soundtracks to sync the show and inspire the viewers.
TLC created a San Diego harbor fireworks show for a company conference party that added lasers, and special effects, all set to a custom sound mix. The music medley itself created natural enthusiasm. Fast-paced medleys of pop music, or a variety mix of music styles, illustrated with layers of fireworks, LED Wristbands, laser beams, and laser projection becomes the highlight of company anniversary's or milestones.
MEMORABLE MOMENTS with MUSIC and LIGHT
Fireworks shows synced to music is a TLC specialty for corporate events, having created music-based special effects events for 40 years. TLC combines new technology video projection mapping, laser projection mapping, with traditional crowd pleasers like atmospheric effects and streamers.
> TLC Fireworks & Pyrotechnics >
A fireworks show created with Extraordinary Events and TLC, at a San Francisco stadium, added projected lasers and a custom themed soundtrack. TLC goes beyond fireworks, creating all kinds of site-specific entertainment with video and laser projections, and other live special effects, that engage and surprise viewers with original experiences.
ALTERNATIVES to FIREWORKS
Special effects provide alternatives to July 4th type fireworks shows, good for areas with drought or concerns with fire safety. "If high winds or rain impact the outdoor effects, we have layers of other fx going on, so we can pull the plug on the fireworks and still have a dynamic and entertaining show," said Kevin Bilida, owner / CEO of TLC.
WHITE SPARKLE FOUNTAINS
White sparkle fountains are non-pyro effects that look like pyro, and creates visual excitement, but use no flame and are safer than fireworks. For the recent LAFC soccer stadium opening in Los Angeles, TLC created a ribbon ceremony featuring white sparkle fountains, shining brilliantly in bright daylight, fog bursts, and streamers, as well as flying cameras and live aerial views of the stadium event.
> VIDEO: White Sparkle Fountains >
A variety of live special effects, from sparks to bubbles, snow, dancing air-tubes and lighting effects create unique experiences set to music. LED wristbands, such as Xylobands, made famous by Coldplay, light up every person in sync with the music, connecting everyone. Xylobands are a powerful new technology for impressive light shows that literally light up every person in the audience.
Providing technical production services, special effects, pyrotechnics, fireworks, and flying drone aerial cameras, TLC brings new technology and creative production to energize events. TLC is active in Hollywood media production with live special effects, stage pyro, lasers, and fog fx for live TV; such as America's Got Talent, Dancing With The Stars, American Idol, and for ads, movies, and more.
Contact TLC Creative for more information on technical production and for live special effects.
310-822-6790
email:
TLC@TLCisCreative.com
Source: TLC Creative Special Effects