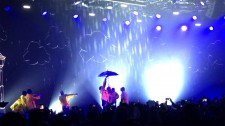 New technology water screens lit up an event showcase in Las Vegas, creating a unique visual experience. Singers and dancers performed with a custom intelligent water-screen display from TLC Creative. Designs and images in the falling water featured raindrops and umbrellas cascading down onto the performers.
LAS VEGAS, May 22, 2020 (Newswire.com) - A spectacular New Year's Eve show in Las Vegas highlighted intelligent water-screen technology from TLC Creative. The water screens create designs and images in the falling water, and added visual impact to the event theme of "Singing in the Rain."
The water-screen productions featured top Vegas dancers interacting with the water screens, as images in the water of big raindrops and umbrellas cascaded down onto the performers. The water effect provided a dramatic stage visual.
New technology water screens are so controllable they can be placed very close to guests with no mist or water outside of a narrow fall zone. TLC installs water screens for indoor and outdoor events, with individual lengths of 6' to 10' that can be combined into large displays.
> WATER SCREENS 'Singing in the Rain' >
A 90-foot water-screen installation that showcased a variety of falling logos and brand messages in the water lit up San Diego harbor for an evening event. The water screens also functioned as an interactive gateway that paused the water as guests approached, creating a special moment as guests posed for pictures while standing in the water "gateway" opening.
Water effects by TLC include combinations of fire and rain, floating water fountains for pools, and dancing water tubes (an enclosed water fountain with RGB up-lights that allows placement of the tubes anywhere).
Although the pandemic had paused the events world, planners have been reaching out to the water-screen experts at TLC to plan ahead for their events. TLC assists clients with logistics to integrate innovative special effects in any situation.
TLC is known for innovative effects at live events for corporate theater and sports events, and known for its expertise with water screens.
The world's first "reveal and release" screen-drop system was designed by TLC for the Los Angeles Lakers. A signature pre-game in the NBA, the projection-mapped 360 cylinder show has been performed live at Los Angeles Staples Center over 500 times since its debut.
> LADY GAGA Haus Promo - Lasers by TLC >
TLC provides technical production services and live special effects for corporate events and for TV and film production. A recent shoot for Lady Gaga put the style icon in a cone of blue laser by TLC, and a TV show for Netflix featured a hell filled with red laser beams.
TLC has provided production and media events for clients including Expedia, Cisco, Adobe, Autodesk, Sikorsky Aircraft, and more.
Contact TLC Creative Technology
Visit TLC: https://tlciscreative.com
Discover TLC on social media:
TLC INSTAGRAM
TLC FACEBOOK
TLC PINTEREST
Media Contact:
Jeff Ward
Phone: 310.822.6790
Email: TLC@TLCisCreative.com
Source: TLC Creative Technology
Share: