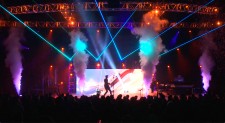 Las Vegas, NV, April 2, 2017 (Newswire.com) - Live special effects are energizing Easter presentations and new technologies are adding to the surprise factor. Churches, youth centers, and places of worship, are increasingly using fog jets, lasers and now; light-up wristbands, to energize everyone and make events more visually exciting and more immersive.
Effects have always been in passion shows; when the tomb opens up, or at Christmas, when baby Jesus is visited by the wise men, beautiful soft flowing low-lying fog becomes part of the special moment. Fog and dramatic lighting, laser aerials, and other stage effects are used to help bring out the awe and wonder of these iconic visions made real.
The worship AV industry is constantly adapting to audience's changing interests, and the reality of how to pull people to live events these days. Youth oriented events pull out all the stops with concert level special effects, laser beams, confetti and moving lights, co2 fog bursts, and even Xylobands, LED wristbands made famous by Coldplay.
LIGHT UP WRISTBANDS - COLDPLAY ON TOUR >>>
'High-energy is sustained with effects like confetti and cryo jets. Fog bursts and lasers always get people jumping!' says Adam Marconi of Central Church in Nevada. 'We create amazing energy and the effects are an important part of the experience.'
TLC Creative, of Los Angeles, CA, supplies Central Church with artists and technicians, and new technology effects. TLC is known for live special effects at events and on TV. TLC also launched Xylobands USA, providing light-up wristbands for events, made famous by Coldplay.
TLC LIVE SPECIAL EFFECTS on LIVE TV >>>
TLC has worked closely with Coldplay since 'Clocks', live on Jimmy Kimmel's debut in 2002, on up to the current A Head Full of Dreams tour, providing laser shows, glowballs, aerial photography and more.
'Effects techs have to get it right every time' Adam reports. Live special effects for worship audiences requires careful precision to be reliably tasteful and always artistically presented, something TLC has had a lot of experience with. TLC brings live special effects to live TV, The Voice, America's Got Talent, Dancing With The Stars, and more.
LED GLOWBALLS at MADISON SQUARE GARDEN >>>
Stadium sized live special effects, and exciting projection-mapping and reveal shows for the LA Lakers, NY Knicks, Arizona Coyotes, Denver Avalanche and more is another specialty for TLC.
For more information contact TLC at 310-822-6790
Email TLC@TLCisCreative.com
TLC Creative Special Effects
310-822-6790
Source: TLC Creative
Share: