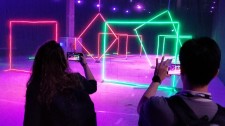 The experience of piloting drones for the first time, and team building competitions, is thrilling guests at corporate events, trade shows and expos. TLC Creative Special Effects is creating team drone racing experiences for events using new, easy-to-fly drones and visually creative obstacle courses. TLC creates dancing drone shows and VIP / Drone encounters for events.
LOS ANGELES, January 8, 2019 (Newswire.com) - ​​Drone race challenges are a new way to create excitement at special events, generate viral media, and energize guests with a thrilling new technology. TLC Creative Special Effects drone experiences are giving event guests their first try at piloting aerial drones through indoor obstacle courses. The unique, hands-on experiences allow guests to fly drones in teams and in competitions.
Spectacular and innovative corporate entertainment, drone racing is a highly competitive sport that is quickly growing in popularity. A racing format that creates excitement and engagement for the pilots, viewers and spectators. Learning to pilot drones is an engaging way to connect guests to the moment, and to each other.
TLC fits the drone challenge experience into the available space at any event. TLC brings the drones, and the computer stations used to pilot the individual drone flights. Live video from each drone allows the new pilots to see the drones POV and fly their own drone through the unique obstacle courses TLC created.
INDOOR DRONE RACE CHALLENGES
Drone entertainment is in high demand for TLC Creative, as they bring creative indoor drone racing and indoor dancing drone shows into the corporate events world. The appeal is obvious: drone racing is futuristic and exciting, a cross between online gaming and high-speed racing, and engages event guests with the thrill of new technology.
TLC - DRONES CHALLENGES FOR EVENTS >
TLC creates the drone obstacle courses to fit the venue, adds lighting and special effects, and includes a practice area to allow guests a warm-up trial for the drone racing experiences. Besides learning how to fly drones through various goals, the visual energy is amplified for viewers as pilots are distracted with live special effects; fog bursts and moving light effects.
"TLC's drone challenge experiences allow guests to fly drones themselves for the first time," says Kevin Bilida, pilot and president of TLC Creative. "Drones offer a perfect blend of hands-on excitement and team building, and our clients get thrilled with the great reviews from the guests."
Bilida is a certified 333 pilot for aerial drones as well as a licensed helicopter and fixed-wing aircraft pilot. He and his team have been using drones at special events for over 7 years including: aerial event coverage, live streaming video from air to ground, drone racing, drone (on stage) deliveries, and dancing drone shows.
For TLC, a drone racing set-up creates powerfully exciting experiences as viewers get the fun of watching the races, the crashes, and the wins! At a TLC event, a win is an opportunity for bells and whistles, lights and streamers.
DANCING DRONE SHOWS for EVENTS >
Indoor dancing drones are how TLC describes artful combinations of a fleet of miniature aerial drones, and live special effects and lighting effects, set to music. Drone shows can be created for experiences and events for any sized group, and, for camera based productions.
TLC creates walk-up enclosures to showcase dancing drone shows behind an invisible netting, adding a layer of safety, and allowing very close proximity to an entire fleet of miniature aircraft doing a "ballet" in mid-air.
Corporate event planners are always looking for ways to energize their events with something new and drones deliver novelty and excitement. Bringing team drone racing to company events has become very popular for TLC Creative, with the races and team building experiences being set-up at trade shows and at special events.
TLC Creative AIR - Drones and Helicopter Services >
TLC has been creating live special effects entertainment for over 40 years, with award-winning reveals, and live special effects entertainment. TLC's custom designed effects and shows have been featured at events of every kind, and on tv and media around the globe. 
Contact TLC Creative for more information on drones, event technical production and for live special effects.
TLC Creative: 800-447-3585
Email TLC@TLCisCreative.com
Visit TLC: TLCisCreative.com
Source: TLC Creative Special Effects