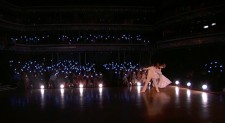 Intelligent LED wristbands bring visual energy to shows and events of all kinds, with visual music that inspires audiences with live controlled lighting effects.
Los Angeles, CA, May 23, 2017 (Newswire.com) - "Dancing With The Stars" featured Xylobands' light-up wristbands, creating unique lighting effects and a custom 'heart of light' on this week's finale shows on ABC TV.
The LED wristbands, famous on the Coldplay tours, are the world's brightest intelligent wristbands, and create all kinds of colorful patterns and movements across the audience. The audience becomes part of the show, with synchronized light effects illustrating the music.
Xylobands USA and their programmers worked for many days on "Dancing With The Stars," designing the customized sequence to be timed perfectly with the music. Hundreds of channels were used to program the Xylobands color-designs for the show, and Xylobands USA helped create a custom Xyloband 'heart' that lights up at her touch.
DANCING WITH THE STARS video on you-tube >
Xylobands are now lighting up public and private special events of all kinds. From corporate theater to conferences, meetings, and sales events, as well as celebrations and concerts. The Live Special Effects team at Xylobands USA brought the new technology LED wristbands, Xylobands, to create glowing light effects across the audience.
Xylobands USA is also TLC Creative Special Effects. TLC has worked closely with "Dancing With The Stars" for many years, creating laser aerial effects, live rain, water and fog effects, as well as fire effects as seen with Lady Gaga. A custom fire effect added to the moment with the Lord of the Dance, and other unique live special effects.
TLC's lasers, fog effects and pyrotechnics effects have added visual impact to many of DWTS's unforgettable live performances. See more TLC Live Special Effects >
Contact TLC for more information on technical production and for live special effects.
For more information, contact Xylobands USA at 310-822-6790.
Email TLC@TLCisCreative.com
Xylobands USA / TLC Creative Special Effects
310-822-6790
Source: Xylobands USA
Share: