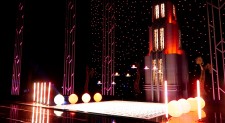 Los Angeles, CA, April 8, 2017 (Newswire.com) - A new kind of entertainment has arrived featuring coordinated fleets of aerial drones flying in a choreographed ballet of movement and light.
TLC Creative, of Los Angeles, recently debuted the new dancing drone shows at the Dolby Theater in Hollywood, CA. TLC takes flying drone technology, and showcased with custom music, performers, dancers, and live special effects, are creating new experiences for live events.
The Dolby Theater dancing drone shows were created for the US Darley Awards in Hollywood, and the live event was broadcast and streamed globally, and seen by millions.
Indoor dancing drones are so new, audiences are surprised and mesmerized by the technology. Watching a fleet of miniature aircraft hovering, spinning, diving in a ballet of motion set to music – it's a totally new kind of live entertainment.
Drone shows have been growing in popularity in outdoor situations, most recently seen at the Super Bowl halftime featuring Lady Gaga. Outdoor drone shows can feature dozens, or even hundreds of drones, all lighting up patterns. But indoor drone shows are a different type of show, with small fleets of aircraft doing intricate movements and patterns in mid-air.
VIDEO of DANCING DRONES at the DOLBY >>>
TLC is bringing creative drone ideas and specially crafted drone moments to energize corporate and special events. TLC also provides aerial cameras that stream live video (Air to Ground) to event screens, and theatrical drone delivery of new products to VIP's onstage, and other creative uses of drones at special events.
TLC provided aerial photography to Coldplay on their recent stadium tour.
TLC AIR - DRONES & HELICOPTERS >>>
Drones and live special effects, such as lasers and laser light effects, and LED light effects, are bringing new technology ideas to live special events of all kinds.
For more information contact TLC at 310-822-6790
Email TLC@TLCisCreative.com
TLC Creative Special Effects
310-822-6790
Source: TLC Creative
Share: