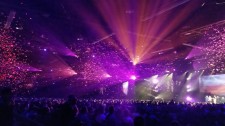 The original 'immersive' effect, confetti creates celebration and event energy. Special events use confetti and streamers to reinforce the event theme and messages, and to get audiences excited and motivated. Cut confetti pieces, such as logos or 'money' create a visual experience that can't be created any other way. Stadium streamers blast streamers far and wide to cover entire events.
LOS ANGELES, November 14, 2019 (Newswire.com) - A creative confetti blast is a surprise moment at special events that everybody enjoys. TLC Creative Technology are the experts at providing confetti and streamers at all kinds of special events. With custom cut confetti, guests experience a theme reinforced in a creative and memorable way, by being immersed in color and motion.
Paper snowflakes, paper 'autumn leaves', and custom cut logo shapes were featured confetti cues created by TLC at a recent large-scale event. TLC used over 40 confetti blowers to create the big confetti moments in the very wide convention venue, as well as creating low-lying fog effects and other stage effects. Special effects at events create energy, and the heightened moments become exaggerated and more memorable.
Special effects at events create surprise and audiences that are more engaged. Streamers and confetti are always effective exclamation points at peak event moments, triggering audience reactions. TLC uses confetti and streamers with printed messages or logos to add importance to the special occasion.
Branded streamers feature printed messages and logos on every streamer, another way to surprise guests with a special message that celebrates that event. The printed streamers typically use black ink on bright color streamers, and white ink on darker streamer materials.
High-powered streamer bursts fill venues of any size with the excitement of the moment. Stadium streamers create celebration at large-scale venues with high-power streamer cannons, launching streamers over 200 feet in the air.
Live stage effects from TLC Creative include fog bursts, low-lying fog effects, and sparkle fountains, which create a brilliant burst of light. Laser effects and laser mapping are part of TLC's arsenal of how they transform a venue into a unique experience.
TLC provides technical and event production support, live stage and special effects, kabuki and projection effects, as well as the latest innovations in LED effects and LED for events.
Visit TLC: https://tlciscreative.com
Contact TLC Creative Technology
Phone: 310-822-6790
Email: TLC@TLCisCreative.com
Discover TLC on social media:
TLC INSTAGRAM
TLC FACEBOOK
TLC PINTEREST
TLC TWITTER
Media Contact:
Jeff Ward
Phone: 310.822.6790
Email: TLC@TLCisCreative.com
Source: TLC Creative Technology
Share: