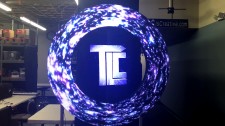 New technology LED video with flexible panels creates unlimited video shapes, and see-through 'hologram' displays are creating visual excitement, especially when people see them for the first time. TLC Creative Special Effects has been specializing in unique video and LED displays ever since the world-famous Xylobands became a live event sensation.
LOS ANGELES, November 30, 2018 (Newswire.com) - Surprising reactions occur when people encounter shaped video displays at eye-level. Non-rectangular shapes of bright LED video, with vivid and colorful messages, stand out in busy areas. Curved LED video displays, created with soft-pixel-panels, are dimensional ways to get attention in any environment.
TLC Creative Special Effects is using shaped LED VIDEO displays such as circles, curves, 3D wavy strips, video globes, and unusual formats to energize events and exhibits. New technology LED video with flexible panels creates unlimited video shapes.
When people encounter a new video technology for the first time, they notice it! Make the most of your message by delivering it in a new way, with new technology.

Kevin Bilida, Owner / Team Leader, TLC Creative
The Circle LED is especially surprising, and grabs attention in any situation. An 81 inch tall, stand-alone display puts brilliant video at eye-level on a large, 360 degree, CIRCLE of LED.
The Circle LED display includes an interface that allows onsite text programming, and playback of text and all media formats. Shaped video displays are creating impact with surprising visuals and great entrance impressions.
CIRCLE LED with Mid-Air 3D Floating Video >
TLC is a Los Angeles based technical production team specializing in unique video and LED displays for events, as well as projection mapping and live special effects for corporate and private events. TLC brings new technology to live events, conferences, trade shows and meetings, and the new circle LED displays are quickly moving into all kinds of events.
The TLC video projection mapped pre-show at every home game of the Lakers at Staples Center is projected on a cylinder of rapidly revealed fabric, and is the largest ongoing kabuki drop in the world, with over 500 live performances since it was introduced. The reveal and release system was created by TLC for the Lakers, and was the first of its kind.
XYLOBANDS Intelligent LED Wristbands >
TLC also provides wireless video panels, mid-air 3D floating video "holograms", and other exciting ways to present content to your guests. Xylobands are the intelligent LED wristband phenomenon lighting up everyone at live events of all kinds.
Source: TLC Creative Special Effects
Share: