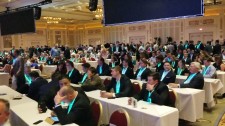 LOS ANGELES, April 9, 2019 (Newswire.com) - Intelligent lanyards that light up on cue are creating new experiences at special events, connecting everyone to the event and to each other with the power of light.
Xylobands lanyards, from the Hollywood event technical production company TLC Creative Special Effects, are lighting up at meetings, events and anywhere motivational impact is critical. The new technology LED lanyards are controlled live and pre-programmed, lighting up, changing colors and creating dynamic color zoning and LED light effects and creating unique site-specific experiences for audiences.
Xylobands are popular with Coldplay tour fans, brilliant LED wristbands lighting up in millions of color combinations to the music, filling stadiums with light. Xylobands' lanyards use the same control system as the Xylobands wristbands but with many more LEDs - the brightest live controlled lanyards available.
TLC integrated lasers and live special effects into Coldplay's American TV debut of "Clocks" on the Jimmy Kimmel show back in 2002, and, later, TLC brought light-up, inflatable glowballs to Coldplay's North American debut events for "A Head Full of Dreams."
Now Xylobands are taking the corporate and private events world by storm. LED wristbands and LED lanyards are a sure-fire effect that connect people like never before. The synchronized, personal light-up wristbands enhance shared moments, from cool, meditative colors fading in and out, to brilliant white and rainbow color patterns flashing or pulsing brightly. Audiences love how LED wristbands are exciting and engaging, as their personal light-up device becomes synchronized to music and voice cues.
Immersive light shows create energy and focus at company meetings, bringing together teams that benefit by quickly getting the team on the same page. Conferences and meetings will be inspired to use this exciting way to elevate the energy of their team. Churches, inspirational groups and the worship A/V industry uses Xylobands to inspire youth-oriented events with all the energy of touring concerts.
LED wristbands are changing the look and the experience of live entertainment. TLC is well-known for being the go-to source in Hollywood for wireless effects and control systems for wireless lighting. Xylobands are DMX controllable LED wristbands that use reliable RF to light up events of all sizes, from private parties to corporate events and more.
TLC Creative provides technical production services, plus live special and all kinds of LED effects. TLC is focused on innovation and new breakthroughs in event technology. Besides technical production for events and shows, TLC is very active in bringing Xylobands and other new LED technologies to special event industry showcases and provides seminars on new technology for live events.
For more information, contact TLC Creative Special Effects.
Phone: 310-822-6790
Email: TLC@TLCisCreative.com
Discover TLC on social media:
Source: TLC Creative Special Effects
Share: