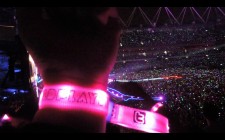 Xylobands is celebrating 5 years since the launch of the Mylo Xyloto Tour and the first of the original Xyloband LED wristbands began lighting up audiences with brilliant LED light shows.
Las Vegas, Nevada, October 22, 2016 (Newswire.com) - The Mylo Xyloto Tour is celebrating its 5 year anniversary, and the launch of Xylobands, the LED wristbands that light up every person in sync with the music, and with each other. The Coldplay tour was the first time large audiences were treated to the immersive effect of being part of the show.
This years Coldplay tour; A Head Full Of Dreams, extended the excitement of LED Wristbands with new 360 degrees of light LED wristbands, and other new technologies that audiences have never seen before.
Coldplay began the Mylo Xyloto Tour in October 2011 with a series of rehearsal concerts in Europe, and then the full-production shows began in December 2011 in the United Kingdom. The tour continued into 2012 with shows in North America, Europe and Oceania.
Xylobands LED wristbands were central to the show's visuals, which were also complimented with an extensive use of laser lighting displays. 5 years later Xylobands have become an entertainment phenomenon, filling stadiums with light for sporting, public, and private special events.
XYLOBANDS USA VIDEO - lighting up all kinds of events >>>
Xylobands USA provides LED Wristbands, LED Lanyards, plus the exciting, interactive LED Glowballs, for events of all sizes. Production services and live special effects are provided for event support.
COLDPLAY album debut events - GLOWBALLS by TLC >>>
CONTACT Xylobands USA at 800-447-3585
email TLC@TLCisCreative.com
Source: Xylobands USA
Share: