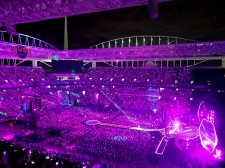 LED wristbands are lighting up on Coldplay's A Head Full of Dreams tour and at special events of all sizes. Xylobands allow event lighting designers to extend their visual designs off the stage and onto everyone's wristbands. The audience becomes part of the show.
MIAMI, August 29, 2017 (Newswire.com) - Coldplay's record breaking tour 'A Head Full of Dreams' energized fans in Miami last night, with the band's passionate music and with dazzling visual technology, including light-up wristbands called Xylobands.
The LED light show on everyone's wrists come from the LED wristbands made famous by Coldplay on the Mylo Zyloto tour; only this time all kinds of new technology were added. The Xylobands worn at the Hard Rock stadium made a bright, immersive display of 500,000 LED, or more, filling the stadium with brilliant light in sync with the music.
Events and shows are benefiting from new LED technology. Wireless LED effects have opened up unlimited ways to create amazing experiences with light.

Jeff Ward, Logistics & Production Manager
Xylobands - Light-up bracelets for events >
Coldplay's latest tour is combining all of the effects they are famous for, including Xylobands, lasers, and huge glowballs interacting with the crowd. But it's the LED light show created with the LED wristbands that is the most unique experience for audiences.
New technology light shows using Xylobands, LED tubes, glowballs, and other LED and laser effects are lighting up at all kinds of private, and corporate events and meetings. Sports teams from the NY Knicks, NY Rangers, Arizona Coyotes, Denver Avalanche, and others have called up TLC Creative to create stadium sized LED light shows.
"Xylobands get everyone excited," says Jeff Ward, of TLC Creative. "They make every person feel connected to the show." It's that feeling of connection to what's happening, the connection to the music, and to everyone present that makes Xylobands powerfully engaging, and highly motivating, at all kinds of events.
TLC Creative is a special effects team who have worked with Coldplay since the debut of 'Clocks' with live laser effects on the Jimmy Kimmel Show back in 2002. TLC lit up a recent charity event in Miami that featured LED effects and Xylobands, and actor Jason Alexander (from Seinfeld) warmed up the crowd commenting on the technology, which creates excitement at small events as well.
TLC Creative LED Light Shows >
Expedia, T-Mobile, PGA West, and other corporate and public groups, have turned to TLC Creative for special effects shows featuring LED effects. A PGA WEST outdoor show by TLC celebrated their 30th anniversary with laser aerials, laser animated projections, streamers, co2 jets, and LED glowballs and tubes lighting up a golf course at night.
VIDEO: TLC Special Effects Shows - YouTube >
LED light shows are energizing special events of all sizes, and Coldplay's pioneering LED wristbands are leading the way.
Coldplay's A Head Full of Dreams tour continues next month at CenturyLink Field in Seattle, Washington, on Sept. 23, 2017.
Contact TLC Creative / Xylobands USA for technical production and for LED and live special effects.
For more information, contact TLC at:
310-822-6790
TLC@TLCisCreative.com
FACEBOOK
PINTEREST
TWITTER
Source: TLC Creative
Share: