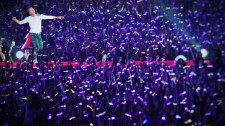 Xylobands are lighting up Coldplay's fans with the world's brightest, and only, 360 degree LED wristbands. Xylobands are creating LED light show experiences that connect everyone with the band, the music, and each other. LED wristbands, and LED lanyards, from Xylobands USA, are also creating experiences across the U.S. at public and private events of all kinds.
NEW YORK, N.Y., August 1, 2017 (Newswire.com) - Tonight's Coldplay concert at the Metlife Stadium in New York kicks off Coldplay's 2017 North American tour, showcasing the light-up excitement of Xylobands in action.
The LED wristbands are once again lighting up everyone at the 'A Head Full of Dreams' concerts, and the fans are excited. The high-technology LED wristbands have also become very popular in the professional events world, courtesy of the team at Xylobands USA / TLC Creative.
The Xylobands available today include some great innovations since its debut, with advanced programming options that create amazing visual experiences that are unique at every event.

Kevin Bilida, Owner/CEO/Team Leader: TLC Creative
TLC Creative have been lighting up people with Xylobands since the intelligent LED wristband technology first debuted on Coldplay's previous tour. Brilliant LED lanyards, using Xylobands technology, are also energizing everyone at corporate events, where motivation is crucial.
COLDPLAY TOUR GALLERY Xylobands USA >
New technologies are delivering the next generation of entertainment experiences featuring wearable media, LED costumes, and wireless technologies that create unique visual impact. TLC is creating LED light shows that immerse everyone in a synchronized experience of light.
TLC Creative provides live special effects to events, and have added effects to Coldplay shows; lasers, LED glowballs, as well as aerial photography on last year's 'A Head Full of Dreams.' TLC has worked with Coldplay since their performance of 'Clocks,' seen live on the debut of the Jimmy Kimmel show, with TLC lasers covering the band and fans on Hollywood Blvd.
Coldplay has continued to break records with their tours, providing fans with the most exciting concerts possible. This dedication to high-quality experiences for the fans is paying off with sell-outs around the world.
A HEAD FULL of DREAMS TOUR Wikipedia >
After New York, the Coldplay tour will swing through Boston's Gillette Stadium, then on to Washington, D.C., Montreal, Minneapolis, Omaha, Kansas City, Chicago, Cleveland and more.
LED wristbands, brilliant LED lanyards and interactive light-up glowballs are bringing Xyloband technology to corporate and private events of all kinds. Samsung, Cisco, Dell and Usana are global brands energizing events with LED effects from TLC Creative.
Contact TLC Creative / Xylobands USA for more information on technical production and for live special effects.
For more information, contact TLC at:
310-822-6790
TLC@TLCisCreative.com
FACEBOOK
PINTEREST
TWITTER
Source: Xylobands USA
Share: