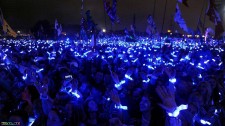 Coldplay Interactive LED wristbands light-up every person at Coldplay concerts, immersive light-shows are the newest trend in events of all sizes. Xylobands USA brings Xylobands to shows and events of all sizes.
Los Angeles, CA, August 11, 2016 (Newswire.com) - ​​An entirely new kind of light show is energizing live concerts! Shows created with synchronized, colorful light coming from LED wristbands that audiences are wearing. Coldplay's summer concert tour; A Head Full of Dreams, is breaking attendance records worldwide, and every fan is a part of the show, as patterns and colors travel across the audience's wristbands. There has never been a light show coming from the audience before Xylobands came onto the scene.
Exciting LED wristbands that light-up every person is the innovative technology that Coldplay helped invent for their previous outing, but for this tour new Xylobands are even brighter, with 360 degrees of light and new visual experiences that immerse everyone into the show.
Xylobands are popular with Coldplay fans; brilliant LED wristbands lighting up in millions of color combinations to the music. Now Xylobands are taking the corporate and private events world by storm. LED wristbands and LED lanyards are a sure-fire effect that connect people like never before. The synchronized 'personal' light-up wristbands enhance shared group experiences. Audiences love how LED wristbands are exciting and engaging, as their personal light-up device becomes synchronized to music and voice cues.
Xylobands USA was launched to provide the LED wristband technology to shows and events in North America, and has become the top source for corporate and private events, motivating all types of occasions with the exciting, interactive effect. Xylobands USA was founded by the famous Hollywood technical production provider; TLC Creative Special Effects. TLC worked with Coldplay on their tv debut of 'Clocks' on the Jimmy Kimmel show in 2002, and continuing onto Coldplay tours across North America, integrating laser effects.
TLC recently brought Light-Up GLOWBALLS from Xylobands, to bounce and fly over audiences heads, at Coldplay's performances on the American Music Awards, and a radio album-debut event with KROQ in Los Angeles at the Belasco Theater. Live events with audience interactions tossing LED glow balls, that are lighting up in sync with the music, is a new way that TLC brings more excitement for live shows. The Light Up Balls are motivating conferences and meetings in amazing new ways to engage audiences of all kinds.
Besides bouncing over people's heads, the LED Light Up Glowballs also float on water, bringing Xylobands powerful live control technology to light up outdoor events on pools and fountains.
The 'A Head Full of Dreams' tour is set to showcase the new LED wristband effects to U.S. audiences as the Coldplay concerts wind their way west, playing stadiums and large venues, in one of the world's top music tours of 2016.
Contact TLC Creative Special Effects / Xylobands USA at 310-822-6790
310-822-6790
Source: Xylobands USA
Share: