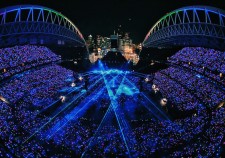 Interactive experiences with light-up bracelets inspire at all kinds of live events. Xylobands USA is bringing the new technology to light up audiences like never before.
SEATTLE, September 25, 2017 (Newswire.com) - The CenturyLink Field in Seattle lit up Saturday night with over 600,000 individual LED lights. Coldplay's "A Head Full of Dreams," tour creates the world's biggest, immersive LED light shows. Brilliant displays of light, bright enough to light up venues with all of the light is coming from the audience's Xyloband LED wristbands.
The light-up bracelets, made famous by Coldplay, make the audience an important part of the concert. Xylobands LED lights create a visual experience like nothing else, producing colorful patterns and movements of light that sweep across the crowd.
The Seattle Coldplay concert featured all of the live special effects that the band uses to make their shows visually spectacular... the LED bracelets, the lasers, glowballs, and more confetti than a New Years Eve in Times Square.
COLDPLAY TOUR - IMAGE GALLERY >
Xylobands have also become very popular in the special events industry, lighting up people at sporting events, celebrations, parties, company conferences and meetings. Private events like birthdays, weddings and bar mitzvahs are also calling up Los Angeles-based Xylobands USA for the live-controlled, magical, interactive experience of wearable light shows.
Event designers are taking advantage of the special programming features of Xylobands. Color-groupings allow unique experiences, and color-zoned Xylobands can light up the participants in numerous ways.
The fabric bands on Xylobands feature an extended ten-inch strap filled with LED lights, creating 360 degrees of light. The extra LED's, and the longer straps, make the Xyloband shows much brighter than imitation bands, which have fewer LED's and use weak infra-red control that makes mistakes. The RF receiver in every Xyloband provides high-quality reception of the control signal from a single, ground-based transmitter. This extra level of quality and brightness, continue to set Xylobands apart from imitation technology.
Xylobands USA has created events using the LED wristbands everywhere; including parties all over North America, an opener stadium show in Dubai, season openers for the Arizona Coyotes, New York Knicks, and conferences for a Toyota Indonesia conference. Xylobands USA is the go-to source for supporting events worldwide. As TLC Creative Special Effects they provide technical production and live special effects.
VIDEO - XYLOBANDS INDONESIA EVENT HIGHLIGHTS >
Live corporate events are also using Xylobands color-blocking in an exciting way to visually represent different divisions or departments within a company. Corporate conferences turn to the larger Xyloband LED Lanyards, which use the same Xyloband light-up technology, for motivational power and to light-up their guests using the larger Xyloband LED Lanyards.
Coldplay's 2017 tour stop at Seattle's CenturyLink Field is now a legendary evening, and the band is getting ready to light up Edmonton, Alberta for two evenings at Rogers Place. After that Coldplay is headed to Vancouver's BC Place on Sept. 29, 2017, finishing their Canadian tour for the year.
Contact: Xylobands USA at 310-822-6790
310-822-6790
Source: Xylobands USA
Share: