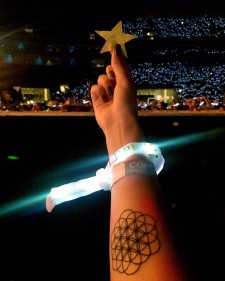 Immersive experiences, using wearable light sources, are lighting up people at all kinds of special events
Los Angeles, CA, April 28, 2017 (Newswire.com) - LED Wristbands have revolutionized live entertainment by putting the light show in the audience's hands. Or, on their wrists, actually.
Xylobands LED wristbands, made famous by Coldplay, are part of an emerging new era of live shows that feature wearable media creating LED Light Shows, immersive group experiences, all synchronized by the show designers, something millions of Coldplay fans have experienced.
A Head Full of Dreams tour is filling stadiums this year as Coldplay again brings the LED wristband technology to light up their concerts with live controlled light. Xylobands engage and excite as everyone becomes a part of the show. The experience is so unique that it works great on any scale, and is being used at corporate and private events of all kinds.
Xylobands USA is North America's primary provider of Xylobands LED wristbands, as well as glowballs and new LED wearables that synchronize lighting effects at special events. Founded by TLC Creative, of Los Angeles, Xylobands USA brings the LED wristbands and the skilled artists and technicians to create elaborate programming designs that sweep colors and patterns of light across a room full of Xylobands.
The 'A Head Full of Dreams' tour is set to showcase LED wristband effects to U.S. audiences as the Coldplay concerts across Europe and return to North America for a series of shows this summer and fall.
Contact Xylobands USA at 310-822-6790
310-822-6790
Source: Xylobands USA
Share: