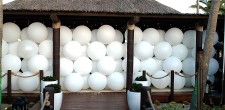 Disappearing balloon walls instantly vanish in an explosion of energy, a unique special effect reveal by the Los Angeles based production team at TLC Creative. Recently updating the technology that launches the entire wall into instant oblivion, TLC uses special care with special effects, and takes numerous steps to create shows that deliver unique experiences.
LOS ANGELES, May 25, 2020 (Newswire.com) - A wall of balloons vanishes, surprising Ben Stiller, Lisa Kudrow and others, on NBC's Celebrity Escape Room which recently aired on Red Nose Day.
The disappearing balloon wall reveal was launched by TLC Creative, the technical production team famous for the cylinder kabuki screen-drop pre-game show that TLC created for the home games of the Los Angeles Lakers.
The escape room balloon wall effect was created for indoor TV cameras, but at a live outdoor event in January, a balloon wall required extra precautions. The beach event faced challenges with a wind at sunset, but at exactly the right moment the TLC reveal performed on cue, exciting the crowd with a burst of energy, and a high-energy start to the party.
Reveal at Beach Event - Disappearing Balloon Wall >>>
TLC used the reveal effect back in 2000 for the opening of the Experience Music Project in Seattle with Microsoft co-founder Paul Allen, and more recently for Gordon Ramsay for celebrations at Hell's Kitchen restaurants in Las Vegas, and at numerous corporate and public events.
Kevin Bilida, founder of TLC, designed the world's first 'reveal and release' screen-drop system for the projection-mapped show for the Lakers home games at Los Angeles Staples Center. The creative kabuki drop-screen show has evolved into a 360 cylinder screen that stretches from above the scoreboard to the court floor, a powerful visual experience for everyone in the stadium.
Celebrity Escape Room (Full Special) >>>
Corporate and business theater, and the sports and entertainment industries, use TLC for innovative effects at live and virtual events.​
TLC has provided technical production and media events for clients including Expedia, Disney, Adobe, Autodesk, Sikorsky Aircraft, Cisco, and more.
For more information, contact TLC Creative.
Visit TLC: https://tlciscreative.com
Discover TLC on social media:
TLC INSTAGRAM
TLC FACEBOOK
TLC PINTEREST
Media Contact:
Jeff Ward
Phone: 310.822.6790
Email: TLC@TLCisCreative.com
Source: TLC Creative Technology
Share: