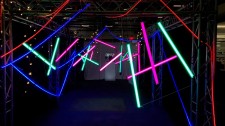 Special event entrances can be themed into unique experiences, like a walk-through maze that created a 'chaos' of twisted light that guests had to navigate to enter an event. Like the lasers in a scene from Mission Impossible, the creative use of LED tubes made guests duck and move through the maze of light. LED light effects are becoming a powerful way to create unlimited experiences for special events.
NASHVILLE, Tenn., January 14, 2020 (Newswire.com) - Entrances at special events can create a memorable first impression for guests, and a recent walk-through entrance, by Los Angeles based TLC Creative Technology, immersed guests in a theme that was revealed as they entered the event.
A light-up maze greeted guests who navigated the maze to enter a 'mission possible' themed event. The themed entrance was a big hit with the company, engaging guests with a unique and colorful LED experience.
TLC worked closely with the event producer to create the TLC LED maze for a group of internal company events, creating a tour that brought the maze experience to several locations.
The company initially wanted a maze of laser light (something TLC has created many times), however, the lights-on event requirement wouldn't work with a laser display. The challenge allowed TLC to think out-of-the-box to use new light-up LED tubes, LED balls, Xylobands and other LED effects that can be controlled live.
TLC provides LED tubes and glowballs for all kinds of special events and represents Xylobands LED wristbands for events across North America. Xylobands are the brightest intelligent LED wristbands available, and now they create brilliant, live-controlled, light-up Xylobands Lanyards for conventions and meetings.​
DIMENSIONAL VIDEO uses new video display technologies that use 'soft-pixel' panels to create curves, circles, and LED video shapes that surprise people at events and exhibits. Moving video tiles are literally moving parts of LED video screens using a new technique that TLC is bringing to exhibits and expos.
LED Video Dimensional Shapes >
Stadium graphics and unusual format video production is a specialty of TLC, providing corporate events and sports venues with creative media production, shows, openers, and themed audio and video content, and technical direction. Live stage effects from TLC Creative include water-screens, pyrotechnics, fog effects.
TLC Technical Production Services >
TLC provides technical production support, live special effects, kabuki, projection effects, and Xylobands, LED wristbands, the brightest live-controlled audience wearable, made famous by Coldplay.
Visit TLC: https://tlciscreative.com
Contact TLC Creative Technology
Phone: 310-822-6790
Email: TLC@TLCisCreative.com
Discover TLC on social media:
TLC INSTAGRAM
TLC FACEBOOK
TLC PINTEREST
TLC TWITTER
Media Contact:
Jeff Ward
Phone: 310.822.6790
Email: TLC@TLCisCreative.com
Source: TLC Creative Technology
Share: